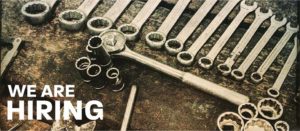 We are currently seeking a full-time diesel mechanic to join our expanding team.
Ground Shaker Motorsports LLC is a growing garage located in central PA.  Along with servicing our sister company, Ground Shaker Transport and Hot Shots, we provide full fleet maintenance for outside customers.  We have a new facility in the Muncy area and we are looking to expand the shop.  We are looking for driven individuals who are willing to work with our team to help promote the growth of our company.  Our constant work load allows us to offer overtime if wanted.  The main course of our work load consists of general chassis repairs.
Responsibilities:
Routine preventive maintenance of vehicles and trailers
Skilled in proper and safe use of tools and equipment
Troubleshooting and repairing vehicles/trailers in an efficient and timely manner
Complete and maintain logs and records accurately
Use of required computer software applications when needed
Follow written and oral instructions
Ability to perform heavy physical labor and work in cramped, close quarter environments
Work independently and as a team when needed
Preferences:
Valid Class A CDL License
PA State Inspection #7 License
Qualifications:
Minimum 2 years related maintenance and repair experience on light and heavy-duty vehicles
Must be able to work on ½ ton and up trucks
Ability to work on tractors with Detroit, Cummins, CAT and International Engines
Trailers from 3,000-70,000 lbs.
Must furnish own small hand tools and steel toe boots
Pass pre-employment drug screening and background check applicable by law.
Benefits:
Starting pay $20-$25 an hour depending on experience/certifications
Health insurance after 90-day probation period
Paid vacation/holidays available after 90-day probation period.
Monday to Friday dayshift with weekends off
Employee discounts
For consideration or further information regarding employment, please contact our Operations Manager, Steve. To contact Steve, just stop by the shop Monday-Friday 7 am to 4:30 pm, call at 570-772-3411 ext. 3 or email your resume to office@groundshakerco.com.
We are an Equal Opportunity Employer (EOE).